Zoom - (2006) - Netflix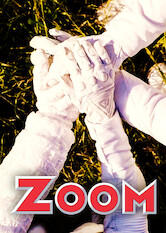 1h28m -
Action & Adventure
1h28m -
Action & Adventure
Dragged from civilian life, a former superhero must train a new crop of youthful saviors when the military preps for an attack by a familiar villain.
Réalisateur:

Peter Hewitt

Distribution:

Ryan Newman

,

Chevy Chase

,

Rip Torn

,

Kevin Zegers

,

Kate Mara

,

Spencer Breslin

,

Michael Cassidy

,

Tim Allen

,

Courteney Cox

Note Netflix:

4.3/5
Score Rotten Tomatoes:
0/100
Disponible en:

Non disponible chez vous? Découvrez comment déverrouiller Netflix et regarder ce titre.

Disponible depuis:
2020-01-11
Bande-annonce:
Titres similaires:

Synopsis
Former superhero Jack Shepard, (also known as Captain Zoom), is called back to work to transform an unlikely group of ragtag kids into a new generation of superheroes at a privacy Academy and save the world from certain destruction. The project holds an audition of would-be members, most of whom possess useless or disgusting powers. In the end, Dylan, a 17-year-old boy who can turn invisible Summer, a 16-year-old girl with telekinetic powers Tucker, a 12-year-old boy with the power to enlarge any part of his body Cindy, a 6-year-old girl with super strength.
Autres titres en cours de visionnage actuellement