Bloodline - (2018) - Netflix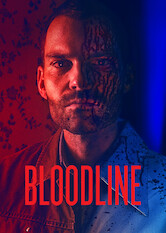 1h36m -
Horror
When a caring counselor becomes a newly sleep-deprived father, he moonlights as a violent serial killer who targets his students' tormentors.
Réalisateur:

Henry Jacobson

Distribution:

Matthew Bellows

,

Kevin Carroll

,

Raymond Alexander Cham Jr.

,

Nick Boraine

,

Dale Dickey

,

Mariela Garriga

,

Seann William Scott

,

Leith M. Burke

,

Sean H. Scully

,

Christie Herring

Note Netflix:

6.0/5
Score Rotten Tomatoes:
0/100
Disponible en:

Indisponible dans votre région ? Inscrivez-vous pour qu'Express VPN débloque Netflix !

Disponible depuis:
2020-02-01
Bande-annonce:
Titres similaires:

Synopsis
Evan values family above all else, and anyone who gets between him, his wife, and newborn son learns that the hard way. But when it comes to violent tendencies, it seems the apple doesn't fall far from the tree.
Autres titres en cours de visionnage actuellement