Resort to Love - (2021) - Netflix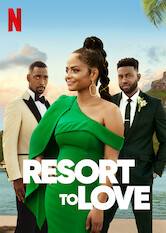 Comment débloquer chaque film et émission de télévision sur Netflix
1h41m -
Comedies
Reeling from a broken heart and career meltdown, a singer takes a gig at a swanky island resort — where her ex-fiancé happens to be getting married.
Réalisateur:

Steven Tsuchida

Distribution:

Christina Milian

,

Jay Pharoah

,

Sinqua Walls

,

Tymberlee Hill

,

Jeryl Prescott Gallien

,

Christiani Pitts

,

Karen Obilom

,

Alexander Hodge

,

T.J. Power

,

Sylvaine Strike

,

Kayne Lee Harrison

Note Netflix:

0.0/5
Score Rotten Tomatoes:
NA
Disponible en:

Non disponible chez vous? Découvrez comment déverrouiller Netflix et regarder ce titre.

Disponible depuis:
2021-07-30
Bande-annonce:
Titres similaires:

Synopsis
Erica who ends up as the entertainment at her ex-fiancé's wedding after reluctantly taking a gig at a luxurious island resort while in the wake of a music career meltdown.
Autres titres en cours de visionnage actuellement