High Speed!: Free! Starting Days - (2015) - Netflix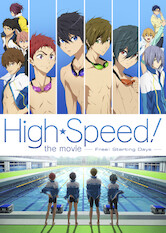 1h50m -
Anime
Middle school freshmen Haruka and Makoto join the school swim team, and have to join forces with their new teammates to win.
Réalisateur:

Yasuhiro Takemoto

Distribution:

Kenji Nojima

,

Tatsuhisa Suzuki

,

Satoshi Hino

,

Nobunaga Shimazaki

,

Toshiyuki Toyonaga

,

Kouki Uchiyama

,

Yoko Hikasa

,

Yoshimasa Hosoya

,

Mamoru Miyano

Note Netflix:

7.3/5
Score Rotten Tomatoes:
0/100
Disponible en:

Indisponible dans votre région ? Inscrivez-vous pour qu'Express VPN débloque Netflix !

Disponible depuis:
2020-02-01
Titres similaires:

Synopsis
Haruka Nanase feels something special when he touches water and when he moves on to Iwatobi Junior High School with his friend Makoto and start a new life they both enter the swim team, and plan to compete in the medley relay together with Asahi Shiina and Ikuya Kirishima. All four students have different objectives and ways of thinking, and different baggage they're carrying, and so their practice for the relay hasn't been going well. What is required to make a team? What does Haruka, whose heart is trapped in the medley relay of the past, think during this new event?
Autres titres en cours de visionnage actuellement