Sniper - (2016) - Netflix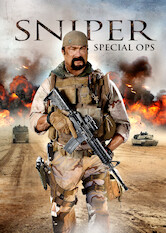 1h26m -
Dramas
After a mission to rescue a U.S. congressman from the Taliban ends with two men left behind, their sniper buddies go against orders to get them back.
Réalisateur:

Fred Olen Ray

Distribution:

Rob Van Dam

,

Tim Abell

,

Steven Seagal

,

Dale Dye

,

Anthony Batarse

,

Charlene Amoia

,

Daniel Booko

,

Gerald Webb

,

Jason-Shane Scott

Note Netflix:

3.2/5
Score Rotten Tomatoes:
0/100
Disponible en:

Non disponible chez vous? Découvrez comment déverrouiller Netflix et regarder ce titre.

Disponible depuis:
2020-01-10
Bande-annonce:
Titres similaires:

Synopsis
A Special Ops Military Force, led by Sergeant Vic Mosby (Tim Abell) with an expert sniper Sergeant Jake Chandler (Steven Seagal) as 'Over Watch' during a special mission are sent to a remote Afghan village to extract an American Congressman being held by the Taliban. The rescue mission is a success, but Jake, separated after a firefight with the enemy, stays behind to help an injured soldier. Sergeant Vic Mosby desperately tries to convince Lieutenant Colonel Jackson (Dale Dye) to let him go back and save the soldiers, but is ordered on a mission to retrieve a truckload of munitions which could be vital for the military base. In direct violation of orders, Vic and his Special Ops Team decide to head back to the village to rescue the stranded soldiers. Outnumbered and out gunned, Vic and his men engage in a massive shootout against the enemy, while Jake uses his expert skills to help save them all from certain death.
Autres titres en cours de visionnage actuellement