Class Act - (1992) - Netflix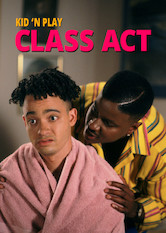 1h38m -
Comedies
Rappers Kid 'n Play star in this goofy mistaken-identity comedy that has them living the other's life when their high school records get mixed up.
Réalisateur:

Randall Miller

Distribution:

Meshach Taylor

,

Karyn Parsons

,

Alysia Rogers

,

Raye Birk

,

Christopher Martin

,

Doug E. Doug

,

Christopher Reid

,

Loretta Devine

,

Mariann Aalda

,

Andre Rosey Brown

Note Netflix:

6.1/5
Score Rotten Tomatoes:
0/100
Disponible en:

Indisponible dans votre région ? Inscrivez-vous pour qu'Express VPN débloque Netflix !

Disponible depuis:
2019-12-01
Bande-annonce:
Titres similaires:

Synopsis
Duncan is a genius straight A student, Blade is juvenile delinquent. But because of a mix up with their school records, everyone thinks each is the other one. Now, Duncan kind of likes the attention from being thought of as a real bad dude, if only the school bully would stop trying to rough him up. And Blade definitely likes being thought of as important instead of as trouble, if only the teacher would stop hitting on him for a date.
Autres titres en cours de visionnage actuellement