Just Cause - (1995) - Netflix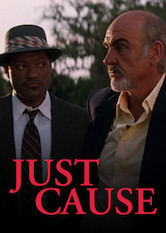 Comment débloquer chaque film et émission de télévision sur Netflix
1h42m -
Dramas
A death row inmate calls on a Harvard law professor to prove his innocence, but the police refuse to consider the new evidence that's uncovered.
Réalisateur:

Arne Glimcher

Distribution:

Lynne Thigpen

,

Kate Capshaw

,

Ned Beatty

,

Kevin McCarthy

,

Ruby Dee

,

Christopher Murray

,

Blair Underwood

,

Laurence Fishburne

,

Hope Lange

,

Scarlett Johansson

,

Sean Connery

,

Ed Harris

Note Netflix:

6.4/5
Score Rotten Tomatoes:
0/100
Disponible en:

Non disponible chez vous? Découvrez comment déverrouiller Netflix et regarder ce titre.

Disponible depuis:
2019-12-01
Bande-annonce:
Titres similaires:

Synopsis
Bobby Earl is facing the electric chair for the murder of a young girl. Eight years after the crime he calls in Paul Armstrong, a professor of law, to help prove his innocence. Armstrong quickly uncovers some overlooked evidence to present to the local police, but they aren't interested - Bobby was their killer.
Autres titres en cours de visionnage actuellement