Yodha - (1991) - Netflix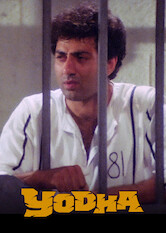 Comment débloquer chaque film et émission de télévision sur Netflix
2h28m -
Dramas
When his journalist father is killed for exposing an esteemed judge as a criminal, an upstanding lawyer makes new enemies and allies as he seeks revenge.
Réalisateur:

Rahul Rawail

Distribution:

Sanjay Dutt

,

Sunny Deol

,

Sangeeta Bijlani

,

Danny Denzongpa

,

Shafi Inamdar

,

Paresh Rawal

,

Anjana Mumtaz

,

Annu Kapoor

,

Abhinav Chaturvedi

,

Sanam

Note Netflix:

4.7/5
Score Rotten Tomatoes:
NA
Disponible en:

Non disponible chez vous? Découvrez comment déverrouiller Netflix et regarder ce titre.

Disponible depuis:
2022-01-19
Titres similaires:

Synopsis
Karan (Sunny Deol) a lawyer crusades for truth fairness and justice is the son of Chandrakant (Shafi Inamdar) a journalist who uses his journalistic expertise to expose and unmask Justice Dharmesh Agnihotri who is known as 'Daga' in the underworld. Suraj (Sanjay Dutt) is a man victimized by Fate. To bear the loss of his love Shilpa he gets addicted to drugs. Then in a complete reversal of attitude he turns against drug dealers. He vows to bring an end to the deadly drug smuggling which wreaks such havoc in people's lives. Dharmesh Agnihotri's daughter Vidya loves Karan. Karan idolizes Justice Dharmesh Agnihotri unaware of the man behind the mask of respectability. Daga hires Suraj and deliberately creates animosity between Suraj and Karan The enmity between Suraj and Karan is sealed when Karan's father Chandrakant is framed for murder and sent to jail where he is killed. Karan loses complete faith in the judicial system. Will Suraj and Karan discover the truth behind the events and incidents happening around them?
Autres titres en cours de visionnage actuellement