Forbidden Games - (1952) - Netflix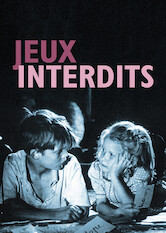 Comment débloquer chaque film et émission de télévision sur Netflix
1h25m -
Classic Movies
During World War II, two children living on a farm cope with the death surrounding them by creating a cemetery for animals killed in the fighting.
Réalisateur:

René Clément

Distribution:

Georges Poujouly

,

Brigitte Fossey

,

Amedee

,

Laurence Badie

,

Madeleine Barbulee

,

Suzanne Courtal

,

Lucien Hubert

,

Jacques Marin

,

Pierre Merovee

,

Violette Monnier

,

Denise Péronne

,

Fernande Roy

Note Netflix:

4.4/5
Score Rotten Tomatoes:
NA
Disponible en:

Non disponible chez vous? Découvrez comment déverrouiller Netflix et regarder ce titre.

Disponible depuis:
2021-09-22
Bande-annonce:
Titres similaires:

Synopsis
When the head of a prominent modeling agency dies under suspicious circumstances there are more than enough likely suspects - but no evidence. Michael Brandon ex-Justice Department golden boy now on the skids is hired to find the killer. His investigation leads to a simmering world of sensuous women where seduction is a way of life and the games people play are always sexual - and sometimes deadly.
Autres titres en cours de visionnage actuellement